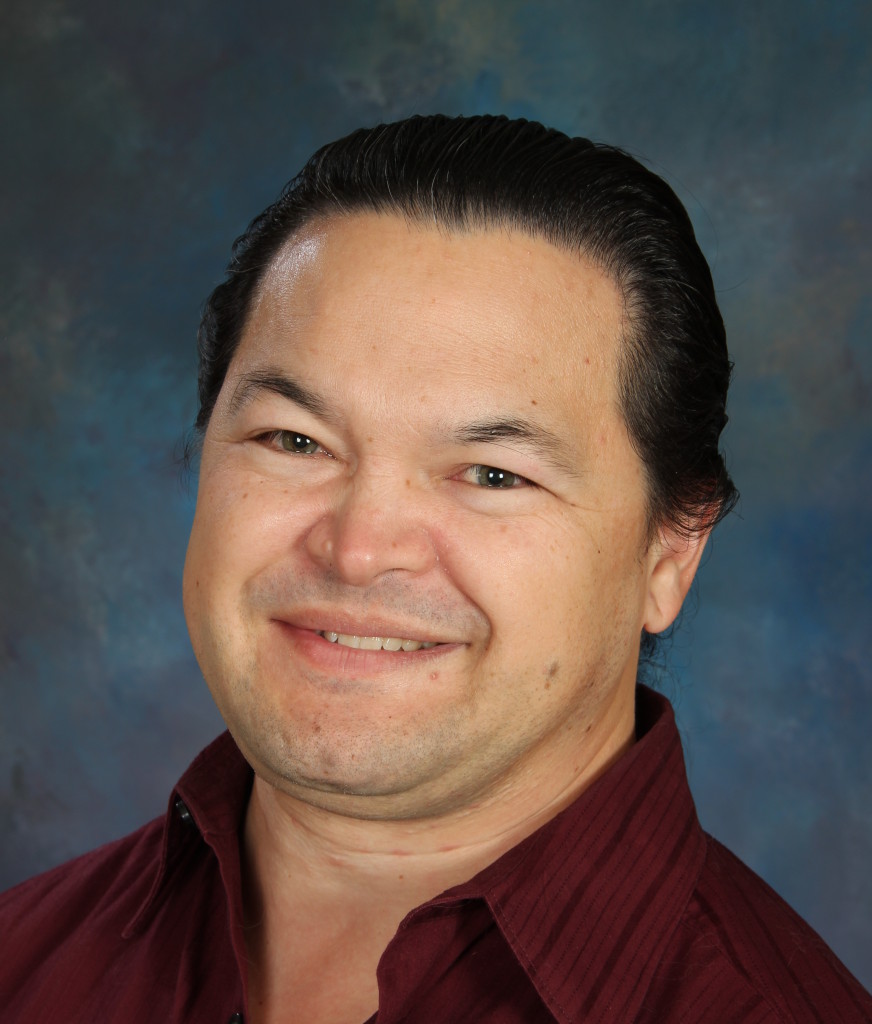 Nathan was born into a musical family as the 2nd of 3 sons to the late Rosendo Ejercito Santos and Rev. Harriet (Clendenin) Santos in Wilkes-Barre, Pennsylvania, and has continued the tradition with an eclectic musical background. Beginning formal piano lessons at age 5, and progressively learning other instruments (clarinet / saxophone, guitar / bass, percussion) as well as voice, he performed extensively with his family, church choirs, National Federated Music Clubs, National Piano Teachers' Association, High School ensembles and musicals, PMEA District 9 and Region 4 Choral and Band Festivals, and various rock groups.
He spent his undergraduate years at Wilkes University as a music performance major, studying bass with Gary Karr pupil, Perry Orfanella, and also vocal studies with Richard Chapline, Dr. Stephen Barton, and Helen Ralston. As well as university ensembles, he performed professionally with other organizations. Some include tenor soloist with the Scranton Singers' Guild, Wyoming Valley Oratorio Society, and First Presbyterian Church of Wilkes-Barre, founding member of Cincopella (an a cappella vocal quintet), bassist for jazz and variety groups: Central City Nite Flight, River's Edge, Polka Dynamite, and teacher / counselor / conductor at the Encore Music Camp of PA.
After receiving his Bachelor's Degree, he then pursued his Master's of Music Degree at the University of Miami in Florida. At U.M. his focus was Jazz Performance, although he was a student of Dr. Lucas Drew (principal double bassist of the Florida Philharmonic) and performed with the university orchestra under the baton of Thomas Sleeper. Instruction was received gratefully and respectfully from Don Coffman (Jazz Bass, Jazz History, and Jazz Pedagogy), Rob Lussier (Jazz Arranging), Gary Keller (Jazz Improvisation), Jeff Laibson (Piano Trio), and Ron Miller (Jazz Improvisation, Jazz Composition, and Avant Garde Ensemble.)
He then moved to Johnstown, PA, to be with his wife, Kristen Shaw (also a very multi-talented educator and musician) a native of Reading, PA, and would perform and teach in the surrounding areas including central and western PA, Maryland, and West Virginia. For the next 20 years, he served as Principal Bass of the Johnstown Symphony Orchestra, regularly performed with Jazz In Your Face Big Band, Acousticity (acoustic rock trio), Soy Bomb (duo), Brex (jazz quartet), White Noise (a cappella quintet), and many other projects and freelance composition/arranging work. He served as Co-Director of Music Ministry at Westmont Presbyterian Church from 1999-2012.
As an educator, he served on the faculties of Indiana University of PA, St. Francis University, Penn State University-Main Campus and the University of Pittsburgh-Johnstown. From 2012-20, he served at Tiffin University in Tiffin, Ohio as Director of Instrumental Commercial Music. He was awarded TU's 2013-14 "Faculty Member of the Year." He currently serves as instructor of guitar at Heidelberg University in Tiffin, Ohio and bass at Terra State Community College. He has actively participated in PMEA events including guest conductor for District Jazz Choirs in Districts 6, 8, and 9 and Jazz Band I in District 3. He was a guest clinician in the PMEA 2012 State Conference in Hershey, PA, collaborating with respected vocal educator, Elizabeth Good, in a seminar entitled, "Cooking Up Some Vocal Jazz: Appetizers to a Full Course Meal," and also in the 2011 State Conference in Pittsburgh, PA demonstrating the versatility of the bass.
He has shared the stage with such notable performers as Bernadette Peters, Ben Folds, Joe Morello, Olivia Newton-John, Chris Standring, Sherryl Milnes, Lou Christie, John Blake, Jr., George Young, Marvin Stamm, Scott Lavender, Mike Tomaro, Andy Narell, Dave Samuels, Five By Design, River City Brass, Steve Fidyk, Ed Soph, Jonathan Kreisberg, Carrie Tillis, Steve Lippia, Chloe Feoranzo and many others. He has been a pit musician in many musical theater productions for organizations including the Mountain Playhouse (Jennerstown, PA), Bellevue Society of the Arts (Bellevue, Ohio) and various universities and high schools throughout Pennsylvania and Ohio. He has appeared on several recordings including Family Arts Theatre, Terminal Degree, Stanley Chepaitis, Mark Weakland and Rachel Allen, which can be found on iTunes, Amazon, and CD Baby.
He has completed training in Avid's Pro Tools and earned a certificate from Berklee Online.