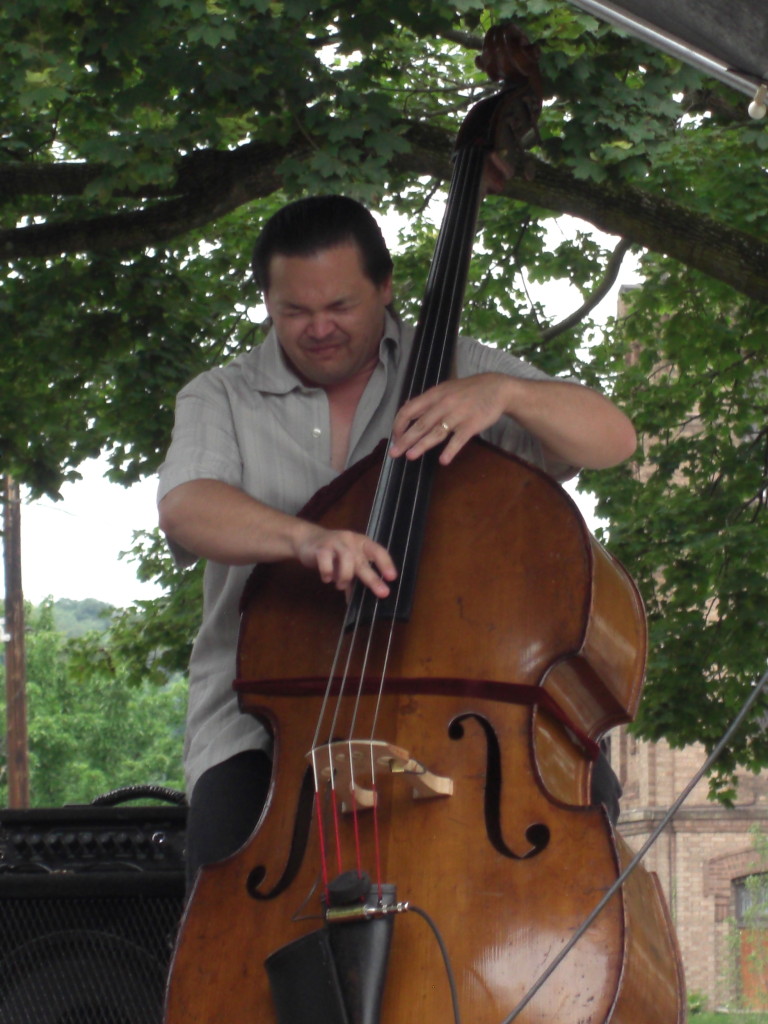 Raised in a creative environment in which all family members were endlessly inventing or improvising, Nathan very early became enthralled with musicians who demonstrated high facility in their craft, and who sought to communicate in the moment. Formally schooled in the European masters such as Mozart, Beethoven, and Chopin, he was also immersed in pop music and admired music with flexible textures and virtuosity of execution in sounds like Journey, Rush, Toto, Steve Vai, Stryper, etc. After learning the bass guitar, he began playing in large jazz ensembles in school, Encore Music Camp, and among interested peers. It did not take long for him to take interest in the Fusion sounds of artists such as Jaco Pastorius, Dave Sanborn, Bill Bruford, Jeff Beck, Michael Brecker, Chick Corea Elektric Band, Pat Metheny, and Marcus Miller.
At Wilkes University, he played regularly with fellow student drummer Steve Fidyk, who also studied with legendary Brubeck Quartet drummer, Joe Morello. Morello performed as a guest artist with the Wilkes U Jazz Ensemble. While in Wilkes-Barre, PA, he played with stellar musicians residing in or visiting NEPA–George Young, Perry Orfanella, Jamie Orfanella, Mike Pryor, Ron Stabinsky, Steve Primatic, Andy Kolojejchick, Tom Heinze, Marko Marcinko and many others. He was a member of projects like Central City Nite Flight and Rivers Edge. Appropriately, his Bachelors Degree diploma was handed to him by bebop legend Max Roach (who was standing in for the ill Dizzy Gillespie, receiving an Honorary Doctorate).
He received his Masters Degree in Studio Jazz Performance at the University of Miami, FL. Instruction was received gratefully and respectfully from Don Coffman (Jazz Bass, Jazz History, and Jazz Pedagogy), Rob Lussier (Jazz Arranging), Gary Keller (Jazz Improvisation), Jeff Laibson (Piano Trio), and Ron Miller (Jazz Improvisation, Jazz Composition, and Avant Garde Ensemble.) He shared the stage with such prominent musicians as Jonathan Kreisberg, Marko Marcinko, Jeff Babko, Jennifer Shelton Barnes, and Julia Dollison.
Western PA
In Johnstown, PA, he quickly was integrated into the western PA scene. He performed with local artists including his own quartet, Nosmo King featuring violinist, Stanley Chepaitis, guitarist, Doug Wilkin, and drummer Mark Weakland. This group recorded a CD called, Intensity. He was a founding member of Jazz In Your Face Big Band, led by drummer, Michael Bodolosky. In 2006, their first studio effort, Finally! was completed.
He played with many other groups and musicians over 20 years including John Pencola, Don Aliquo, Sr., Dick "Nappy" Napolitan, Rick Struzzi, Larry McGiboney, John Bagnato, Jazz Factor 3, Frank Filia, Michael Tomaro, Dan Yoder, Stephen Hawk, Laura and David Ferguson, Kevin Eisensmith, Aaron Goldberg, Rick Hirsch, Eric Susoeff, Ralph Guzzi, Ken Karsh, Zach Bodolosky, Joshua Ben, Marc Nelson, and Eric Mintel.
Many prominent artists visiting as guests in western PA would use Nathan in their backing ensemble. Some of these guests include Dave Samuels, Steve Lippia, Five By Design, Bernadette Peters, Olivia Newton-John, John Blake, Jr, River City Brass, and Ed Soph. Steel pan master, Andy Narell performed at IUP backed by colleagues Keith Young, piano, Mike Kingan, drums, and Nathan on bass. The following are excerpts from the concert:
Laventille:
Song For Mia:
The Long Way Back:
Composer Greg McLean wrote "The Twain Have Met" designed to combine the two styles: European and African approaches in music (or classical & jazz in the common vernacular) represented by two trumpet soloists. This composition was premiered by the Johnstown Symphony Orchestra. This performance is the premier of the wind ensemble version in 2011. The two soloists on this occasion were Marvin Stamm and Kevin Eisensmith. The IUP Wind Ensemble conducted by Jack Stamp:
Nathan was invited to participate in a featured quartet for the Johnstown Concert Series in May of 2014. The concert was billed to feature Billy Test, pianist from Philipsburg, PA who captured the attention of western PA musicians as a junior in high school. A pupil of Altoona's Dave Villani, he we receive his Bachelors Degree from William Paterson U. then Masters at Manhattan School of Music, Down Beat awards, and other high profile opportunities. Along with Billy was Nate Hook on sax, and Mike Bodolosky on drums. Here are two songs from that performance:
The Sequel, by Mulgrew Miller
The Star-Crossed Lovers, by Duke Ellington: [Billy and Nathan duet]
BREX
In 2011, Nathan was invited to perform at the Village Street Blues & Jazz Festival, Moxham, PA. He used the opportunity to explore a project that would pay tribute to his hero, the late saxophonist Michael Brecker. The majority of the material that was chosen was music composed and/or performed by Brecker. Members of the group are Jason Kush, sax, Billy Test, piano, Nathan Santos, bass, and Mark Weakland, drums. The group performed on a few other occasions over the next few years. Many of their live moments are posted:
Jazz In Your Face Small Group(s)
Drummers and bassists often develop a unique and loyal relationship. Drummer Mike Bodolosky would provide Nathan with countless opportunities to play. Below are some live moments including Dale Hertrick on sax, Mac Himes, guitar, Billy Test, piano, Nathan on bass and Mike on drums:
Blue Bossa:
There Is No Greater Love:
So What:
All the Things You Are:
Take The A Train:
Ohio
In Ohio, he has played many solo or group events as a pianist, but has also worked as a bassist with vocalists Aubrey Johnson, Brad Rees, Justin Binek, Jeanette Berry and Prisca Strothers, drummers Olman Eduardo Piedra Carvajal and Reggie Jackson, pianist Scott Lavender (musical director for Johnny Mathis), multi-instrumentalist/looper Brian Fitzgerald, guitarist Chris Standring, Myles Bowers Quintet, and pianist Dean Altstaetter. He enjoys frequently performing with respected artists Ed Adams, John Calhoun, Pete and Shannon Ford, AJ Tscherne, Scott Kretzer, Jeff Skaggs, Alexandra Manfredo, Scott Hafferkamp, Ben Herrick, Ragtime Rick and the Chefs of Dixieland, S'yvelt, and the legendary Skatch Anderssen Orchestra.
He has enjoyed some exciting moments taking students out of the clinical environment to gig professionally. Here are some live videos performing on keyboard at the Jazzin' Tiffin festival in 2014. The ensemble also features Cole Jenkins, guitar, Jazz Hannah, bass, and Isaiah Boyd, drums.
Star Cycle, by Jeff Beck:
Blues for Hollywood, by Frank Gambale:
Last Train Home, by Pat Metheny:
He often plays with the Kroc Center Big Band in Ashland, OHIO.
The Huron High School Jazz Octet, directed by Jeff Skaggs, invited him to be featured as soloist for two events in the spring of 2016. This performance took place at the Ritz Theatre in Tiffin, Ohio:
In July 2016, he enjoyed the opportunity to join former IUP colleague/ violinist Stanley Chepaitis, pianist Chris Bakriges, and drummer Billy Arnold in a series of concerts in Indiana including the Jazz Kitchen in Indianapolis, Snite Museum of Art (University of Notre Dame) and Merrimans' Playhouse in South Bend.
Chloe Feoranzo, who is becoming internationally recognized for her membership with such ensembles as Postmodern Jukebox, was the featured artist at 2018's Tiffin University ProMusic Festival. She recorded, performed, and workshopped with faculty and students.
Myles Bowers Quintet Mardi Gras Jazz at Bella Vino, Bellefontaine, OH, March 5, 2019 Myles Bowers, trumpet, Angelo Garcia, tenor sax, Dean Altstaetter, piano, Nathan Santos, bass, Isaac Bednarki, drums.
Ragtime Rick and the Chefs of Dixieland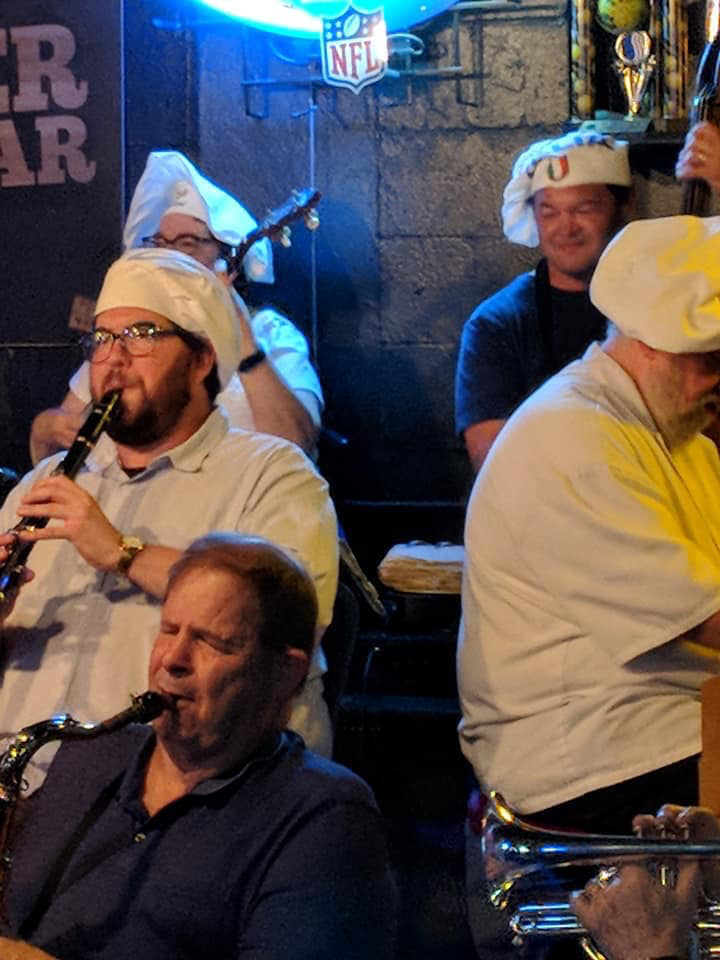 Skatch Anderssen Orchestra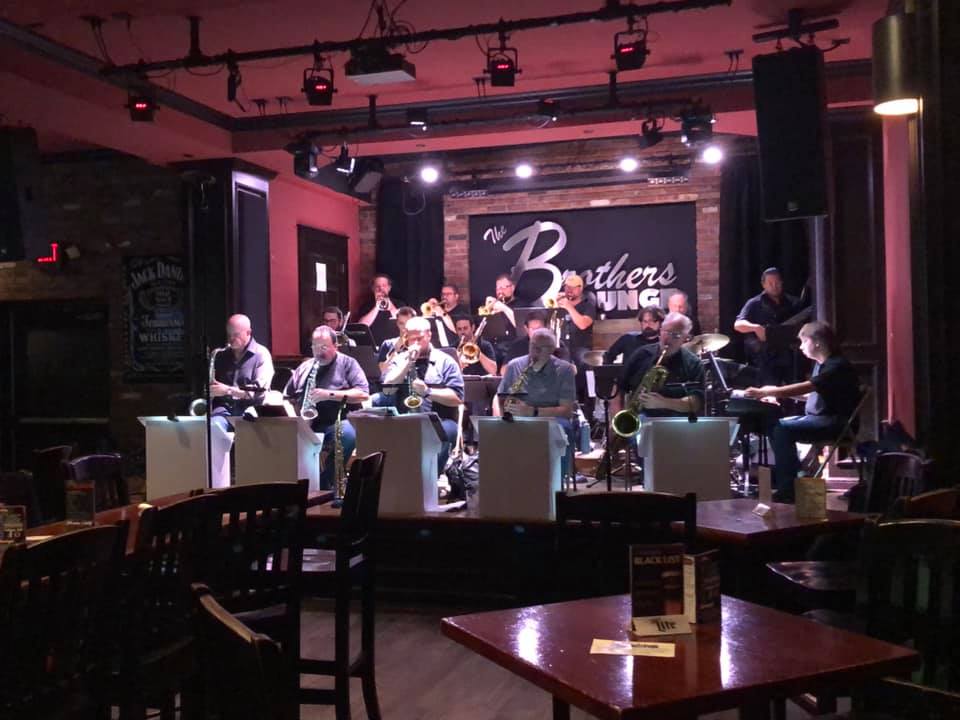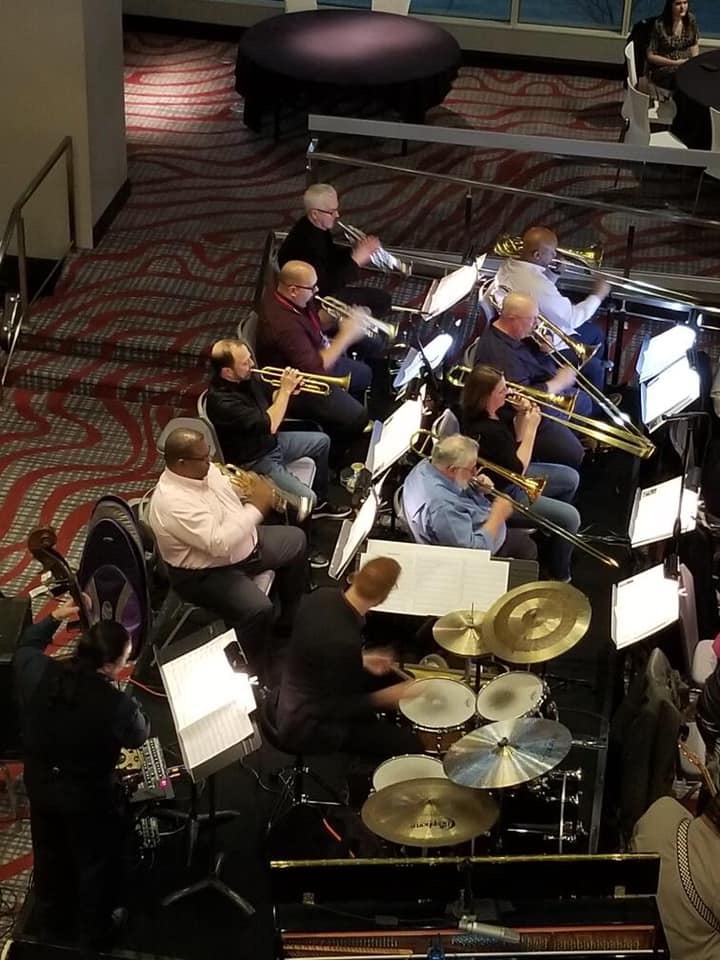 Jasmine & Jimi Goare
Bass Performances/ Recordings