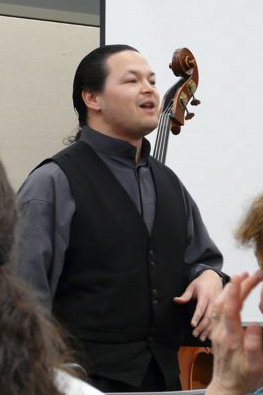 Nathan has been passionately instructing students in music studies for 35 years. He has served in various capacities ranging from private tutor to clinician to classroom professor to committee member of higher academic curriculum construction. His innovative approach is considerate of tradition, flexible to connect with individual needs, contextually thorough, and inclusive of current taste.
From 1988-1992 he maintained a studio mainly focused on guitar, bass guitar, and piano, at the Back Mountain Music Co. in Trucksville, PA. He also was a counselor/director/instructor at the Encore Music Camp hosted by Wilkes University from 1987-1995. He would continue instructing these instruments in addition to voice and double bass privately.
University of Pittsburgh-Johnstown & Penn State-Main, PA
In 1998, he joined the faculty at the University of Pittsburgh-Johnstown, teaching elective courses on Music History, Jazz History and Theory, and Early Music History in which he would remain until 2000. He also accepted an adjunct position from 1998-1999 at Pennsylvania State University-Main Campus as the Instructor of Bass Studies.
Indiana University of Pennsylvania
He joined the music faculty of Indiana University of PA in 2001, earning tenure as Regular Part-time in 2009. While at IUP, he was the Director of Applied Bass Studies, instructed courses in String Methods and Music Appreciation, and directed the Bass Ensemble, Jazz Band, and performed in many events involving students, faculty, and/or guest artists.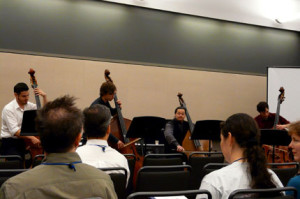 St. Francis University, Loretto, PA
He began adjunct work St. Francis University in Loretto, PA in 2005, instructing private voice, piano, and guitar, and an elective appreciation course called "Explorations." He also became the director of the University Choir in 2010.
PMEA
He has actively participated in Pennsylvania Music Educators Association (PMEA) events including guest conductor for District Jazz Choirs in Districts 6, 7, and 9 and District Jazz Band in District 3. He was a guest clinician in the PMEA 2011 State Conference in Pittsburgh, PA demonstrating "The Versatility of the Bass." The following year, he presented at the PMEA 2012 State Conference in Hershey, PA, collaborating with respected vocal educator, Elizabeth Good, in a seminar entitled, "Cooking Up Some Vocal Jazz: Appetizers to a Full Course Meal."
He continues to be an active clinician and guest conductor for schools throughout Ohio and Pennsylvania.
Tiffin University, Ohio
From 2012-2020, he served as the Director of Instrumental Commercial Music at Tiffin University in Ohio. Awarded the 2013-14 "Faculty Member of the Year", he developed various courses including Advanced Musicianship & Arranging, Analysis of Music, Rhythm Section Methods, Pedagogy, Music Appreciation, 19th-20th Century Music History, Arts In Society, Survey of American Popular Music, and interdisciplinary cultures courses focused on the Canadian progressive rock band, Rush, and the History of Blues.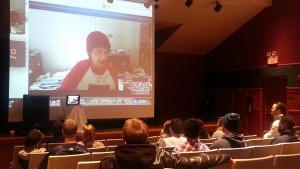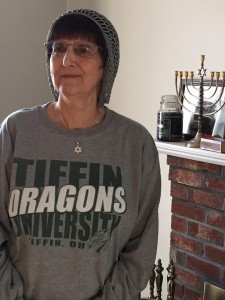 At TU, he directed the touring group, DFX, visiting areas throughout PA, Ohio, New York and North Carolina. He assembled various ensembles such as Dragon Big Band, Sketchbook, Sax Ensemble, Bass Ensemble, Guitar Ensemble, Jazz Vocal Ensemble, House Band, and directed the University and Concert Choirs. His applied lessons included instruction in bass, guitar, piano, voice, cello, and composition.
https://www.youtube.com/watch?v=Q2qpsFbKl94
Heidelberg University, Ohio
In 2016, he began instructing guitar and lower strings at Heidelberg University in Tiffin, Ohio. In addition to private students, he instructed classes in String Methods, and Music Appreciation. He often performs in HU productions such as The Messiah, Big Band, children's community theater, and several shows for the HU Theatre Department. He has served as interim director of the Heidelberg Youth Orchestra.
Terra State Community College, Ohio
In 2019, he began instructing bass and guitar at Terra State Community College in Fremont, Ohio. He has performed with the music faculty ensemble, TerraDactyls.
JECO
He served as secretary and board member of the Jazz Education Connection of Ohio since 2018. He was elected as Vice President in 2021.
OMEA & JEN
His presentation, "Covering the BASSics: Beginning Tips for Playing Jazz Bass" was featured at the OMEA State Conference in Cincinnati on Jan. 30, 2020. Then in 2021, he presented the topic remotely at the Jazz Education Network (JEN) annual conference.
LESSON ONE
In 2020, Nathan and respected guitarist and educator, Jimi Goare launched Lesson One providing musical instruction at the Harrod Event Center in Harrod, Ohio.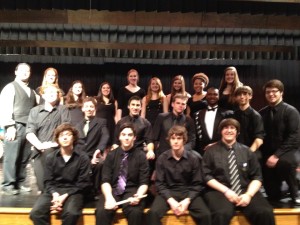 PMEA District 7 Jazz Vocal Ensemble, March 2013, Mechanicsburg, PA